TÜV SÜD's Lift Manager is an independent predictive maintenance service that leverages on our lift domain and digital expertise to support your lift operation and maintenance. It uses Bosch IO sensors and IoT platform, and can be used with lifts of any age, brand and model, including existing lift in service.
How does lift manager work?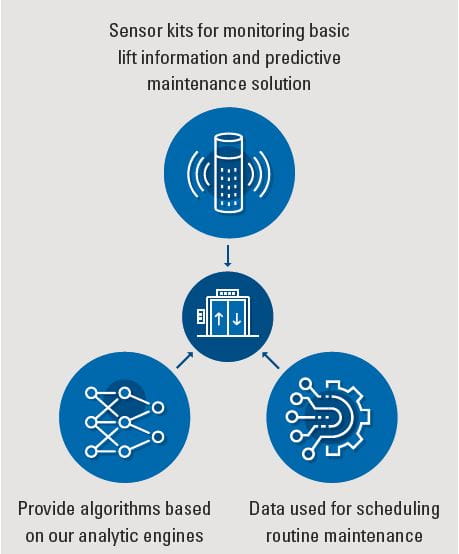 Lift health is monitored using sensors
Our expertise in functional safety for lift operation and maintenance ensure that the sensor locations are carefully selected and safely integrated
Lift data is analysed using our predictive model algorithms to avoid possible lift failures
The high accuracy predictive lift model is supported by more than 30 years of lift inspection and certification experience, with more than 300,000 inspection performed every year.
Condition monitoring with anomalies detection, defects interpretation and recommended actions
Lift car operation data is collected and analysed in real time. Lift Manager's predictive maintenance module prompts an alert to the dashboard when a potentially abnormal process is detected.
This results in a more efficient lift maintenance regime, reduced failure rate and downtime
---
Your benefits
Increase lift reliability and the safety of passengers
Saving on your lift operation and maintenance cost
Potentially reduce lift maintenance visits and hence, reducing labour cost for maintenance
Lift Manager works on all brands and models of lifts, regardless of age, on a single platform
Better transparency and control over lift operation and maintenance
Fully digitise the lift lift cycle as part of your smart building
Get in touch with our team of experts for further discussion.