Numerous companies are looking to start on their Industry 4.0 transformation, but are unsure of where and how to begin.
Dr. Andreas Hauser, Managing Director, Digital Service Centre of Excellence, TÜV SÜD has curated the content of the Gateway based on his experience assessing organisations in Asia and Europe over the last year. He said, "Many companies we spoke to find it hard to formulate an Industry 4.0 roadmap which is customised according to their strengths and challenges. They are often overwhelmed by the multitude of technologies in the market and how they can be integrated seamlessly into their infrastructure and operations."
3-step transformation
In response to this need, TÜV SÜD has outlined a 3-step transformation approach to help businesses systematically roll out Industry 4.0 initiatives.
In the first step "Initiation", companies assess their Industry 4.0 readiness before conducting a gap analysis to identify their gaps in transiting from their present to future state. Dr. Hauser commented, "The Smart Industry Readiness Index is a key element of the "Initiation" phase of the Industry 4.0 transformation journey. It provides a systematic framework for companies to kickstart their journey and transform from their present-state to a future-state; integrating workforce, processes and technologies to become an agile organisation."
The second step is "Solutioning", in which a roadmap is defined and the business case for each initiative evaluated. Initiatives are then implemented while ensuring that quality requirements in terms of safety, security, reliability and interoperability are met, which is crucial for robust, extendable and scalable solutions. In the last step "Operation", the company's running systems are being controlled to ensure reliable and smooth operations and optimised to minimise operation and maintenance costs.
Click here to download the 3-step transformation approach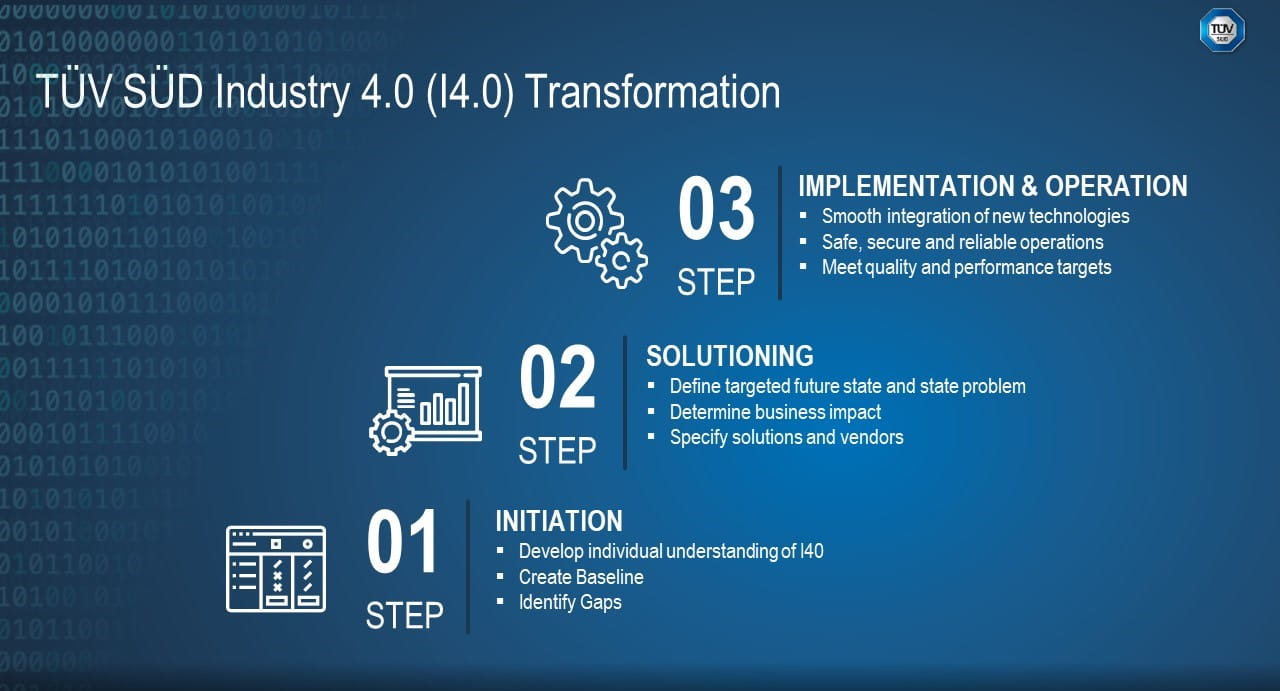 Jackie Tan, Vice President, Industry 4.0, TÜV SÜD advises companies, "In order to successfully achieve their strategic business objectives, our experience shows that Industry 4.0 initiatives have to be coupled with relevant key performance indicators. In addition, the leadership team must prioritise projects in an Industry 4.0 transformation roadmap based on vision, business value, workforce skillset and resources."
Following the launch of the Smart Industry Readiness Index, The Certified SIRI Assessor (CSA) Programme was established by Singapore Economic Development Board (EDB) to scale transformation efforts within the manufacturing sector by training and qualifying assessors to evaluate manufacturing facilities using SIRI. The CSA Programme aims to formally recognise independent and neutral individuals who are able to professionally assess a manufacturing facility using SIRI and its accompanying frameworks and tools. The Certified SIRI Assessor Programme consists of a training course and a certification scheme.
Ready to embark on your transformation? Start with the Industry 4.0 assessment here today.